Taking care of damaged hair is without a doubt, the most difficult and tricky task to do. To make it easier, we can reach for a cosmetic that contains proper active ingredients. One of the most valuable substances in this case is linseed oil with a record-breaking amounts of omega-3 fatty acids. Keep on reading to learn more about the properties of linseed oil and discover the best products for damaged hair.
Although flax is very popular in many countries, it turns out that it has come to us from ancient Greece and Rome. That is where the history of growing flax and obtaining oil has begun. Nowadays, it is cultivated in many other places on the Earth. It is the only plant that can produce oil containing more than half of the polyunsaturated omega-3 fatty acids necessary for our body.
THE PROPERTIES OF LINSEED OIL
The care and health properties of linseed oil are the result of its bioactive compounds, mainly unsaturated fatty acids, vitamins, minerals and plant sterols. Cold pressed linseed oil contains a record amount of EFAs. In one serving, more than 50% of the oil is the omega-3 (linolenic) acid. Slightly less omega-6, omega-9 and saturated fatty acids. Linseed oil also contains essential vitamin E that is a natural antioxidant.
Rich composition influences how linseed oil works:
works anti-wrinkle and delays ageing processes,
firms the skin, and provides hair with elasticity,
soothes inflammation and reduces oily skin,
moisturises and smooths the skin without blocking the pores,
activates the processes of regeneration of the epidermis and hair,
strengthens the hydro-lipid barrier, improves hydration,
protects against harmful effects of sun radiation.
REGENERATING DAMAGED HAIR
Damaged hair is usually of high porosity because of the fact that its outer protective layer has gaps and holes. This way, the strands lose moisture and valuable nutrients at an express pace; become rough, dull and brittle. Such hair is frizzy, split and falls out excessively.
Linseed oil is one of the ingredients perfect for damages hair, nevertheless, not the only one worth drawing your attention to. High porosity hair oiling should be based on oils with high amounts of omega-3 and omega-6 fatty acids, and not only linseed oil contains so much of them. It is recommended to take into consideration cosmetics with other ingredients that regenerate, such as keratin that is the natural building block of hair.
Let me present the most effective cosmetics designed for damaged hair:
Nanoil for High Porosity Hair – is a complex of 6 natural oils (almond oil,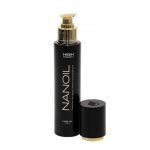 argan oil, evening primrose oil, avocado oil, maracuja oil and cotton seed oil) rich in polyunsaturated fatty acids, enriched with keratin, pro-vitamin B5, vitamin E, silk, lanolin, sunscreen, as well as extracts from soybean and wheat germ. Nanoil provides hair with deep regeneration, rebuilds keratin structure, reinforces bulbs, inhibits excessive hair loss, boosts hair growth, nourishes and moisturises. Moreover, the cosmetic also works on the surface: provides shine, softness, resilience and protection against harmful external factors. Nanoil for High Porosity Hair is an oil that is able to reinforce hair hydro-lipid barrier and seal scales. It can be used in various ways, to wet or dry hair, overnight, during the day, before of after styling or blow-drying, as a hot oil treatment etc. It is also irreplaceable in scalp care. What is more, Nanoil is a weightless product that does not weigh hair down, is quickly absorbed, has pleasant scent and changes the appearance after 2 – 3 weeks of regular use. The first effects are noticeable after the very first use. It is really worth paying this price for 100 ml of the best-composed formula, free of parabens and silicones. Also, it comes in an elegant black bottle it a wooden cork.
* The series includes two more versions of oils – Nanoil for Low Porosity Hair and Nanoil for Medium Porosity Hair. Make sure to select the one that matches your type of porosity, only then, stunning effects are guaranteed. For more information on the hair porosity, please refer to the official website. 
* You can find more information about Nanoil on their website: nanoil.us
Kerastase Resistance Therapiste Mask – It is a product designed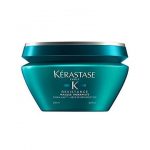 for hair damaged by many treatments, such as straightening or curling. The cosmetic regenerates brittle, matt and split hair thanks to Fibra-KAP complex. It provides hair with proper hydration, softness and strengthening, but is not suitable for application to the scalp. Resilient and easy-to-comb hair will only be obtained by applying a Kerastase Resistance Therapiste mask to damp hair after washing and rinsing it abundantly after a few minutes. You have to pay such a high price quite often because the mask is not one of the most efficient ones.
L'Oreal Extraordinary Oils Double Elixir – a rebuilding oil with a rich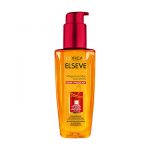 composition and double action. Unfortunately, the product is rich in less natural ingredients, for example silicones. It is a combination of flower oils that turn out to be simple plant extracts, such as chamomile, flax or wild rose. The only oils in L'Oreal Extraordinary Oils Double Elixir are coconut, soybean and sunflower. It is a rather heavy and greasy oil, therefore you should use it with caution not to overburden your hair. It facilitates styling and provides the effect of instant smoothness, softness.
Dove Nutritive Solutions Intensive Repair Conditioner – express hair mask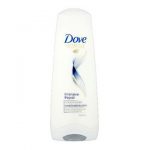 for damaged hair. It is designed to ensure nourishment and regeneration in 60 seconds (after this period of time you must rinse your hair). In fact, you must wait a bit longer to notice effects. Nevertheless, the product gives hair superficial softness and facilitates combing. The cosmetic contains Nutri Keratin Repair Actives complex, which protects and strengthens hair from the inside. Dove Nutritive Solutions Intensive Repair contains no oils and is based on silicones. It works most effectively when used with shampoo from the same series.
Redken Diamond Oil Shatterproof Shine – hair oil treatment that comes in a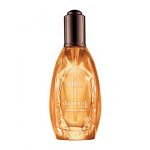 very elegant style. It is rather expensive, as you can see it at a first glance – a professional dropper, glass bottle in an irregular shape. Apart from that, Diamond Oil Shatterproof Shine does not impress. It has a very short composition – sunflower oil, apricot oil, essential oil of coriander and three strengthening substances. It does not contain silicones. You can apply it to dry or wet hair for strengthening, revitalising and moisturising effects. It smooths hair from the outside and adds silky softness.
Garnier Fructis Goodbye Damage -strengthening hair conditioner with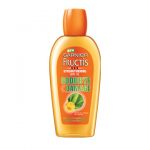 creamy formula and reconstructing action. It is recommended to apply it to the full length of hair that needs strengthening (but not onto the scalp) for a few minutes, after which it needs to be rinsed. It works best with Garnier Fructis Goodbye Damage shampoo. It does not weigh hair down. It works thanks to two active ingredients: keraphyll (vegetable protein) and amla oil. In addition, it contains a few plant extracts, alcohols and silicones. The undoubted advantage of this product is its very low price, which reflects low efficiency and composition.
WHAT LINSEED OIL TO CHOOSE?
Linseed oil can be bought at any grocery store. However, you must remember that for cosmetic purposes only cold-pressed, unrefined and high-linolenic oils are suitable. Unfortunately, we do not get this that easily since it is characterised by low durability due to the considerable amount of omega-3 fatty acids. However, it is better to treat it as an advantage, because these fatty acids are beneficial for the condition of hair and are necessary in its care. Good quality linseed oil can be purchased in healthy food stores or ordered online. It is also worth looking for in ready-made creams, conditioners or hair oils.